I was just reading a report from NBCnews.com on how the New York Times was caught in a couple errors it made one hundred sixty-one years ago. According to the article, 
            More than 160 years after misspelling a now famous subject's name, a reader's tweet has led The New York Times [sic] to set the record straight.
            An article first published on Jan. 20, 1853, about Solomon Northup — the free black man whose memoir is immortalized in the Oscar-winning film, "12 Years a Slave" — incorrectly referred to him as "Northrop." The headline also identified him as "Northrup."
          Author Rebecca Skloot tweeted a link to the story Monday, which caught attention online. A correction was then published in Tuesday's Times.
While none of us is immune from error, even our small corruptions can come back to haunt us — even when we are no longer around to correct our mistakes. We might draw from this tale the lesson that a competent editor and a sharp-eyed proofreader are both invaluable, but perhaps doing so would seem crass and self-serving, so we shall let that observation pass.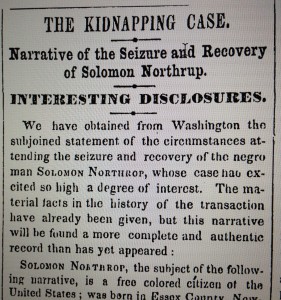 (Despite the misspellings, the original article is still worth reading. And for the other editors out there, note that the title of Harriet Beecher Stowe's famous novel is encased in quotation marks rather than rendered in italics. How drastically editing practice has changed!)