I was reading the latest Flavia de Luce mystery (if you have yet to make the acquaintance of the eleven-year-old Miss De Luce, go to the bookstore, find the mystery section, and ask author Alan Bradley to introduce you) and there came that inevitable moment when the chemically-gifted, pre-pubescent detective needs to gather her thoughts. Flavia accomplishes this task in the traditional fashion used by all good detectives — she resorts to making notes:
Back home at Buckshaw, I hunched over my notebook in the laboratory. I had found by experience that putting things down on paper helped to clear the mind in precisely the same way, as Mrs. Mullet had taught me, that an eggshell clarifies the consommé or the coffee, which, of course, is a simple matter of chemistry. The albumin contained in the eggshell has the property of collecting and binding the rubbish that floats in the dark liquid, which can then be removed and discarded in a single reeking clot: a perfect description of the writing process.[1]
In these three sentences, Flavia compresses cooking, chemistry, clots, and clearing the mind. Despite her youth, Miss de Luce is a perspicacious observer; writing can certainly catalyze one's mental chemistry and turn the thoughts we need to discard into a precipitate we can discern and remove. Writing may seem like an end, and eventually so it is, but before that it is a process, one that can be savoured like a good cup of coffee or an exceptionally clear consommé.
            The youngest Miss de Luce is an intoxicating amalgam of Sherlock Holmes and Wednesday Addams. She has Mr. Holmes' keen eye, Miss Addams macabre sensibility, and their mutual love of chemistry. The age of Mr. Bradley's protagonist should not deter adults; these are not children's books, but full-blooded tales in which Flavia finds herself drawn into not only the mysteries of murder but the menaces of impending maturity as well.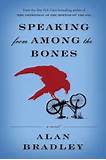 ---
[1] Alan Bradley. Speaking from Among the Bones. New York: Delacorte Press, 2013, p. 216. I love the idea of writing clots. It makes me think of verbal scabs that offer some protection from the outer world, but as every eleven-year-old knows, must be pulled off to reveal the raw flesh and fresh blood below.