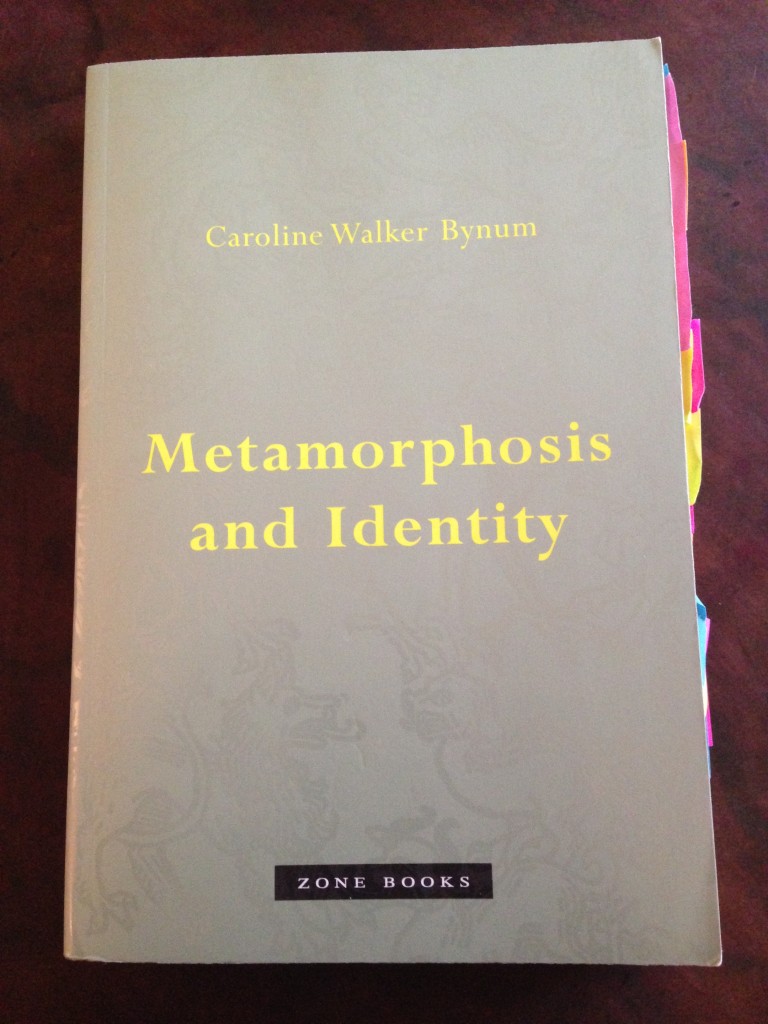 I've been reading Caroline Walker Bynum's Metamorphosis and Identity* as part of my research for a paper I'm about to give on identity in the medieval poem Sir Orfeo, so I read it with double perspective: first, for its usefulness for my research (yes, I'm willing to use a book and then just set it aside), and second, for its enjoyability. M&I was a joy on both counts. Bynum's discussions of identity and werewolves (Buffy the Vampire Slayer even gets a mention) provided me with new insights and approaches to take regarding my topic and even gave me the inspiration I needed for my title. Bynum manages a style that is both erudite and easy to read, and her scholarship is of course phenomenal.
           Over the course of the text, Bynum uses werewolf tales to show how Medieval culture perceived the issue of identity, that identity was considered to persist through changes (such as becoming a werewolf) from hybridity and metamorphosis. She calls on Dante, Ovid, Marie de France, and Gerald of Wales to illustrate her argument, and concludes that
Our concern with how we can change yet be the same thing — our fascination with the question of identity in all its varieties — is inherited from traditions. The identity we carry with us questions — and by questioning conforms — itself. In this sense, we are all Narcissus, as we are all also the werewolf, a constantly new thing that is nonetheless the same (p. 189).
         What surprized me about the book is that it comprises four lectures Bynum gave on various occasions and that those lectures are presented with no attempt to blend them into more cohesive book chapters. I'm not sure whether this omission matters, but it did recall for me an on-going discussion about expectations in the humanities about how books ought to be presented and whether the requirements for dissertations should be changed to allow collections of essays to make it more possible for students to complete their doctoral degrees.
* Carol Walker Bynum. Metamorphosis and Identity (New York: Zone Books, 2005).